View Exhibitor List Below
#1 Cycle Center Harley Davidson
107 Yearicks Blvd
Centre Hall, PA 16828
Saturday, September 22, 10 a.m. to 7 p.m.
Sunday, September 23, 10 a.m. to 5 p.m.
Admission Fees for guests: Admission to the show is $5.00 per car. Military personnel are free with ID.
Parking is $1.00 for Guests, with all proceeds from parking going toward US Veteran MC 22 Riders.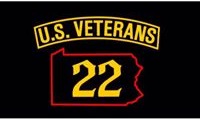 2018 Exhibitors
409 Tailgaters Club
A Soldiers Hands
Air Force
Allegheny National Forrest Visitors Bureau
Appalachian Outdoors Outfitters
Asher's Chocolate
Banana Vital
Blaise Alexander
Buck N Bear Knives
Central PA Chapter of Delta Waterfowl
Centre County Veterans Affairs
ClearWater Conservancy
Custom Engraving
Dunn's Sports Hunting
Eagle Wood Products
Elk County Elk Farms
Freas Farm Winery
Frye's Flies
Future Forged
G&R Excavating
Gerald Putt Wildlife Artist
German Nuts
Grays Hot Spot
Hibbard Distributing
Hillbilly Jerky
Hilton Garden Inn
Home Solutions of PA
Hunters Warehouse
iBroughtTheBar.com
Invisible Fence Company of Altoona
IWOM
K.L. Myers
Kissell Motorsports
Leaf Filter
Marines
McCracken Canoe
Menace Scents
Midlife Crisis White Tails
Mountain Mann Survival / Gee Bio Build
National Rifle Association
Night Eyes Lights
Night Hawk Powersports
North Fork Log Homes
Pet Stop Fence Company
Peter Pepper PA  Pickles
Pink Zone Truck
Prospectors
RBR – Recumbent Bike Riders
Robin Hood Brewery
Rannels Rustics (Sunday)
Sky Satellite LLC / Lures
Sky Top Golf
Solar Shield Metal Roofing
Spring Creek Chapter of Trout Unlimited/VSP
Strong Arm Lift
Susquehanna RV
The Diner/Penn State Fire Truck
The Gold Frog
The Serene Bean Espresso Catering
Turkey Federation
Tussey Mountain Resort
United States Air Force
UPS Store 0069
Vacation Getaways
Veterans Multi Service Center
Walker & Walker Equipment II
Weis Markets
Wild Meats
Your Cigar Den
THERE WILL BE ABSOLUTELY NO GUNS OR WEAPONS OF ANY KIND WILL BE PERMITTED ON SITE * Except for the vendors.  (i.e. No open carry, concealed hand guns, rifles, or knives etc.)
*We at Magnum Broadcasting and #1 Cycle Center respect everyone's individual rights, and believe in responsible gun ownership as protected by the second amendment.  However, we ask that all our guests refrain carrying any firearm or weapon on the premises.